Inaugural Lecture: The Challenges of Modernist Music (VIDEO)
Inaugural Lecture: April 18, 2012 6:30 pm
The Challenges of Modernist Music
Lecture and performance by Charles Rosen
Followed by a conversation with Daniel J. Wakin, Culture Department, The New York Times
Elebash Recital Hall
The Graduate Center, CUNY
365 Fifth Avenue, New York, NY 10016
Admission free
The first lecture of the series will be given by Charles Rosen, celebrated pianist and writer upon whom President Barack Obama conferred the National Humanities Medal in early 2012. Rosen is the author of the acclaimed The Classical Style, a frequent contributor to The New York Review of Books, and a passionate advocate of new music. He will assess the impact of contemporary music in the 21st century, exploring issues such as the role of public and private institutions, the responsibility of education in keeping the arts alive, the divide between commercial popular music and the concert experience, and the challenges of art's accessibility from the 18th century until today.
President Obama awards Charles Rosen a National Humanities Medal
President Barack Obama with Charles Rosen after awarding him a National Humanities Medal during a ceremony in the East Room of the White House in Washington, D.C. on February 13, 2012. Photo by Alison Waldman
Freedom and the Arts — Essays on Music and Literature
Is there a moment in history when a work receives its ideal interpretation? Or is negotiation always required to preserve the past and accommodate the present? The freedom of interpretation, Charles Rosen suggests in these sparkling explorations of music and literature, exists in a delicate balance with fidelity to the identity of the original work.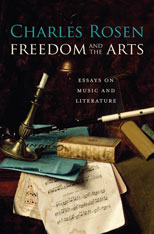 Read more, purchase book here.